FAITH ALUMNI ASSOCIATION
"The sun never set where there is not a Faith Alumnus" – Dr. Russell K. Peir, founder and first president of FST/ FBCI
Faith Bible College International first opened its doors in 1959 as Faith School of Theology under the leadership of Dr. Russell K. Pier. Since that moment, more than 1,100 men and women have walked through those doors equipped to impact their part of the world for the Gospel in both ministry and professions.
Each of these individuals contributes to a powerful group in the family of Christ: the family of the Faith Alumni Association.  
The Faith Alumni Association's purpose is to be a source of continued support for the alumni family of Faith School of Theology and Faith Bible College International in the form of networking, encouragement, and prayer.

---
STAY CONNECTED Update your contact information here!
Do you have alumni news? Internship opportunities? Let us know at pwells@faithBCI.org.
---
FAITH ALUMNI ASSOCIATION NEWS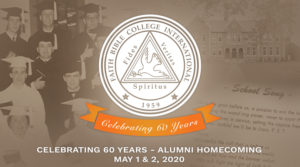 60 Years Celebration – Alumni Homecoming
June 14, 2019 – The start of the 2019 – 2020 academic year marks six decades of God's faithfulness since our founder, Dr. Pier, first opened the doors of Faith School of Theology.  The premier class of 16 began their journey in a small facility located in Old Orchard Beach, Maine in 1959.
We are excited to celebrate this momentous occasion with all of our Faith Alumni, family, friends, and partners on May 1-2, 2020.  We will be holding a special "Homecoming" service, offering campus tours of the current Charleston, Maine facilities, spending time in fellowship, and hosting an "Alumni Brunch."
Mark your calendars and keep your eyes open for more details on this spectacular event!
If you know for sure you will be attending, RSVP now at http://bit.ly/60YearsHomecoming.
Ministry Opportunities
May 2018– Check out this list of ministry opportunities that have been shared with Faith BCI. If you have a ministry opportunity to share, let us know by emailing pwells@faithBCI.org.
You're Invited!
Don't miss this year's events.
---
FAITH ALUMNI ASSOCIATION MEMBERSHIP
Every graduate of FST/FBCI is a member of the Faith Alumni family and enjoys these benefits:
Alumni of Faith Closed Facebook group membership ( request membership here)
10% Discount at Faith Bookstore, Snackbar, and Faith Merchandise
Association dues are $50.00 annually. (Dues are paid by the 1st of September).
---
ALUMNI ASSOCIATION OFFICIALS